By Morgan McGrath
Akron Crossings is in North Hill, tucked among a long stretch of residential areas. Bena Paisley is the founder of this non-profit, community-centric organization, and her central goal is to help refugees adjust to the United States through the guidance of Christianity.
"I encourage them [refugees] to be patient with themselves, and that they really can do this, 'cuz it's overwhelming sometimes," she said.
After speaking with local residents in North Hill, Paisley realized they all mentioned their need to overcome language barriers.
"I was a staff member at a church, and we started Crossings as a way to welcome refugees when we realized how many were coming into Akron," Paisley said.
Alongside her husband, Paisley began Akron Crossings in 2015, and what started as an extension of the church has now become an entirely separate entity.
Today, their organization teaches 16 classes every week (10 of which meet twice a week), with over 100 registered students.
Paisley quotes the Bible as motivation for helping the refugee population.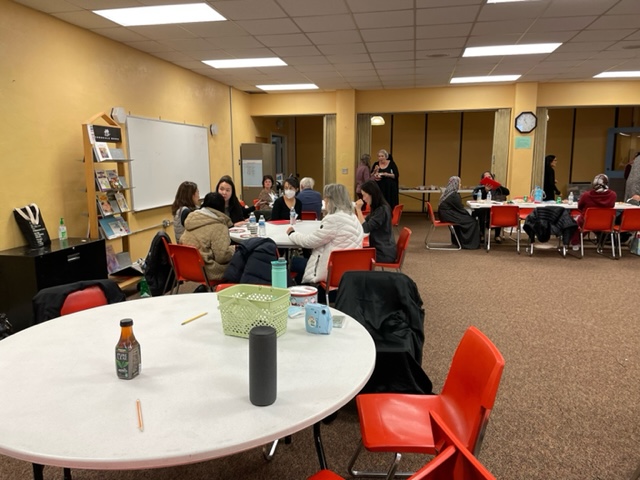 When she first began Akron Crossings, Paisley realized there was a disconnect between children and their parents, and often, kids would be in charge of figuring out public transportation, checking out at the grocery store, and paying their family bills.
In order to help address this problem, Paisley used the help of donor fundings to create a variety of English language courses focused on adult group learning.
Typically, students hear about class sessions through word of mouth.
"Our students are very motivated, you know, the adults that come to us come because they want to learn," said Paisley.
These classes are all taught by volunteers, and they provide people with the opportunity to learn and grow on a semi-weekly basis.
"You don't need to speak any other language to teach English," Paisley said. "You just need to speak English."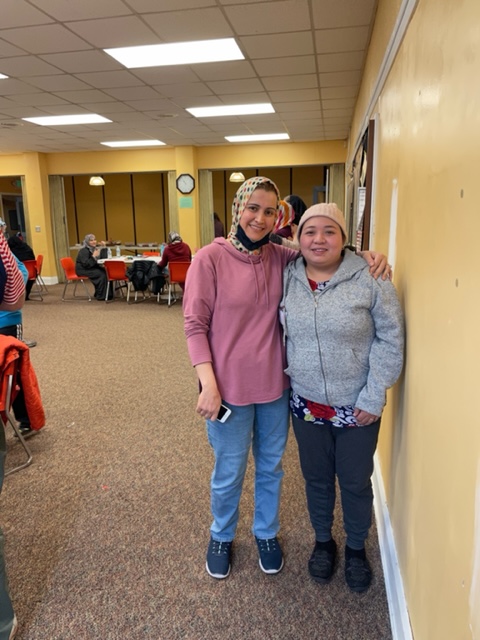 Two women stand with their arms around one another at Akron Crossings in the North Hill. Photo courtesy of Jake George.
Courses range from foundations–the most basic–to an advanced level, where refugees discuss books, politics, and other more serious topics with one another.
As an important note, the classes are taught fully in English, so a single classroom might include refugees from various countries across the world.
Some come from Iraq and Afghanistan, others were born in Burma, and still others arrived from Nepal, and these are just a few.
"We'll have people, you know, who work all night, like at Case Farms, at the chicken factory, cutting up chickens all night," said Paisley. "And then they go home and get cleaned up and come to class…they'll work all night and then come to class because they want to be there, they want to learn."
Additionally, Paisley encourages individuals who are interested in volunteering to look at the nonprofit's website to learn more about this process.
She even tries to align volunteers with their particular interests, whether it be babysitting children of refugees or helping teach upper-level courses.
Akron Crossings also works closely with other refugee organizations in the area, including the International Welcome Center (IWC), The International Institute of Akron, and Akron's public schools, as well.
Paisley encourages the groups to collectively help refugees, and if her organization isn't the right fit for someone, she will gladly recommend one of the others in the community.
Finally, she also offers an important anecdote to refugees who might be struggling with adjusting to their new lives.
"And the one thing that we say is you're not alone. We're here with you, we're gonna do this with you, we're gonna help you, you're not alone."