By Nathalia Teixeira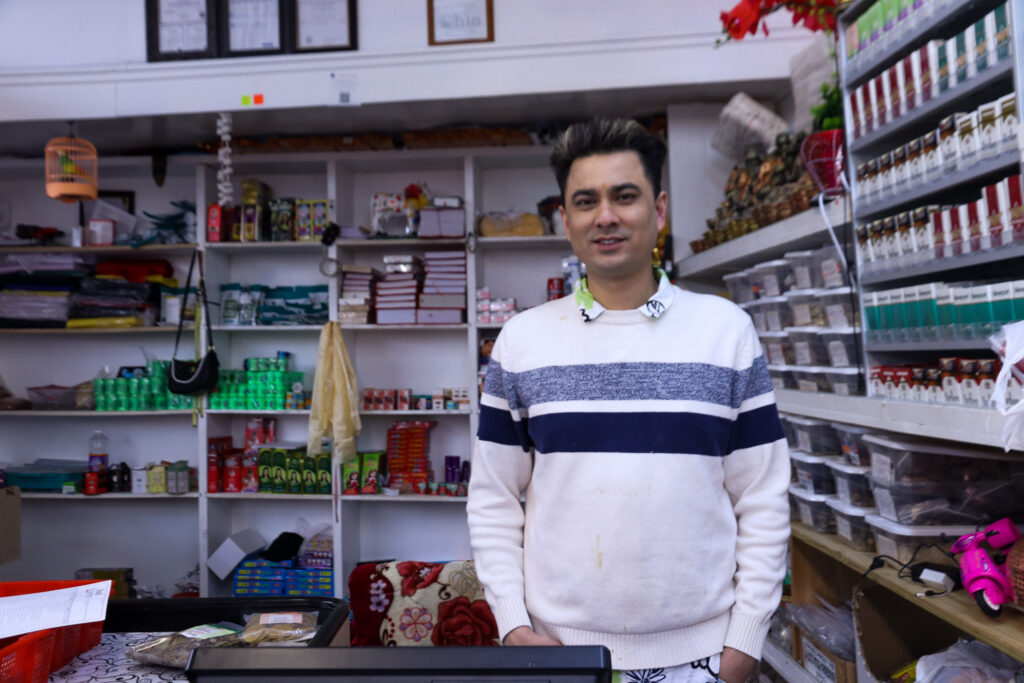 Sagarmatha means Mount Everest in Nepali. Mez Baniya, a refugee from Nepal and the owner of Sagarmatha Grocery and Clothing Store, gave his store this name so it would grow as large as the tallest mountain on Earth. His passion while selling food from different cultures and Nepali dresses makes the store one of the most distinctive around North Hill, Akron.
Busy, versatile and convenient, the store is a multicultural mix of South Asia. A blend of fresh and nonperishable products from Nepal and India is sold on its shelves. On the upper floor, you are astounded by a clothing store, which is a glimpse into Nepali culture. A unique place in the middle of North Hill. Cheerful, elegant and sparkling, the different types and colors of dresses sold in Samargatha Clothing store are a way to get in touch with Nepali ancestry traditions. 
"I honor my business," Baniya said. "It keeps me busy every day and makes me feel responsible to my family and community."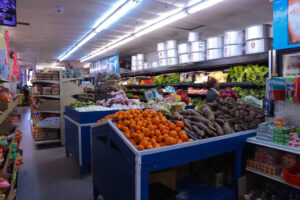 The main reason for selling items from Nepal is to embrace those cultures in a new country for Baniya and his family. There is also a family-driven reason: following the wishes of his parents and grandparents, who lived in Nepal for 60 years. Selling Nepali supplies keeps his family in touch with their roots.
"We try to find everything. Every item, what people are looking for, what people are needed in their culture or home," Baniya said. "We are the people in this community, so we don't have to search too many stores to buy all our supplies. Basically, we try to sell in one shop."
Baniya sells food from Nepali and Indian cultures at his grocery store, run by him, his brother-in-law, Ram Chhetri, and his friend, Shajit Tamang. They bring nonperishable food from Nepal, such as dry beans, rice and flour items yearly. When they run out of these supplies, they go to New York, Chicago or Florida to restore them, or ship items from Nepal.
The United States was the "dream country" for Baniya. He heard he could have a better life here than in Nepal. Baniya had been a refugee in Nepal since he was 12 years old, in 2004. Originally from Bhutan, he had the opportunity to come to the U.S. in 2017. He chose to come to Akron because his brother was already in the city and told him it was a good place to be.
Chhetri was also a refugee in Nepal for 20 years and settled in Akron because there's a big Asian community in the place, and it was easy to find a job.
"We are uncomfortable settling in any other big city like Arizona, California or Texas," Chhetri said. "It's quite difficult to 'exist.' In Akron, 'we exist' because we have many Asian people here."
He also feels valued working at the store.
"When you work for a company, it's easier to be fired," Chhetri said. "When we open our own business, it's quite easy to keep a job."
UNHCR, IOM and UN Red Cross help refugees resettle in the United States and financially help refugees in other countries. The help of these organizations made Baniya's process to become an immigrant in the U.S. smooth.
He had a difficult life in Nepal, where the government provided basic costs, such as a small home of one bedroom and a convenient amount of food per month. He didn't have the opportunity to work in the country because he was a refugee.
"We don't have those things before coming to the United States," Baniya said. "Here, I run a business, and we have a lot of opportunities."
The fact that Baniya is a business owner now and has a better life than he had in Nepal makes him excited to engage with other cultures, learn daily with his customers and be a force for good for the community.
"I want to learn more things day by day," Baniya said. "Running a business is challenging, but I am open to attending to my customers. I want to be a nice person for them."
Shajit Tamang, Mez's friend, oversees the clothing store. Born in Buthan, he had also been a refugee in Nepal. He came to the United States in 2015 to join his sister in Akron. After applying online to come, collecting his documents for IOM, taking a picture and doing interviews, he was able to settle in Akron as well.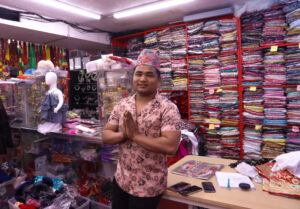 Tamang is responsible for getting the dresses. He goes to Nepal every year in the winter to bring inventory to the U.S. With his experience in design, he helps customers get the dresses they are looking for.
First, he asks the customer the type of dress they would like to buy and he tries to find it in Nepal when he goes during the winter. In some cases, Tamang asks Nepali designers to make custom dresses for people in Akron who request them.
"We cannot make [the dresses] over here," Tamang said. "Because we don't have the fabric in the U.S."
The reason why he orders the dresses from Nepal is that it is too expensive to make them in the U.S.
"America doesn't have all the materials for the handwork too," Tamang said.
He said the most common dresses are Sari, dresses to wear on formal occasions – some women wear for weddings – consisting of a petticoat, a blouse and a huge scarf. The blouse is often fitted and short. The scarf is typically 13 to 26 feet long and two to four feet wide. Nepali women wear this scarf wrapped around their waists and across one shoulder.
Lungi dresses are also popular in Nepali culture, which are usually long skirts with ends sewn together, many Nepali men wear these dresses because of their comfort.
Kurta is a light, loose pants, shirt and big scarf that make up the Kurta Suruwal are worn together. This outfit is primarily worn by Nepali women in daily life.
Lehenga is a three-piece outfit that consists of a long skirt (lehenga), a sash (dupatta) and a blouse (choli). Due to their style variety and simplicity of wear compared to Saris, Lehengas have been a favorite for Nepalis.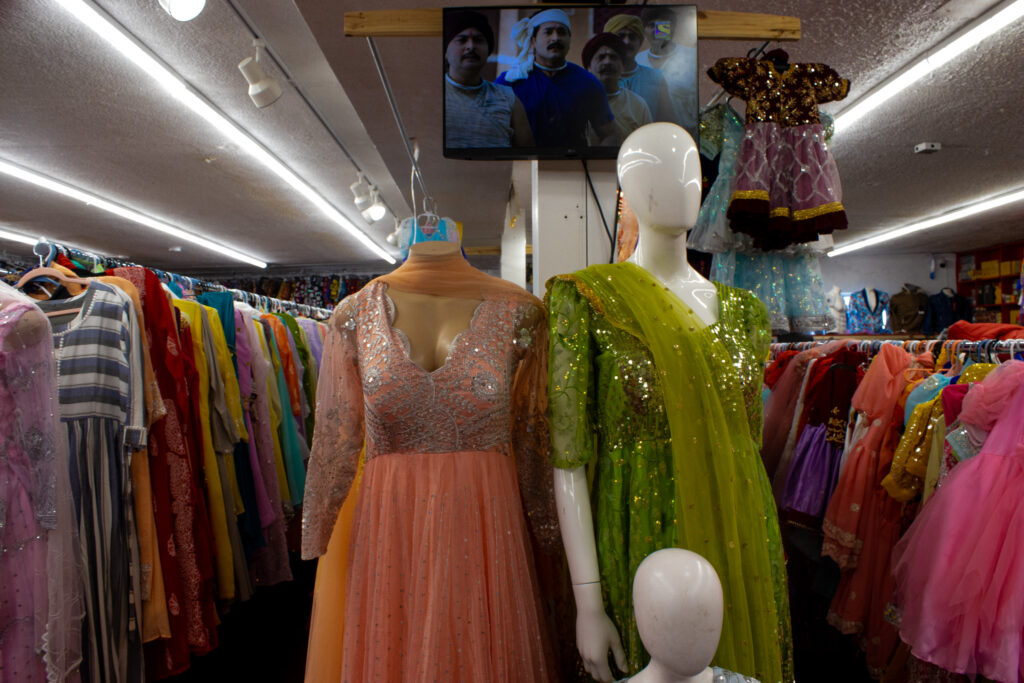 "At weddings, women wear the red color," Tamang said. "When their husband passed away, they must wear white color."
There's also a specific outfit called the Pasni dress that Nepali six-month-old babies use for the rice-feeding ceremony — when rice and solid food are first introduced to their lives.
"Boys usually use the blue color and girls the green color," Tamang said.
In most of the dresses, there's handwork involved. The more handwork a dress has, the more expensive a dress is, he said.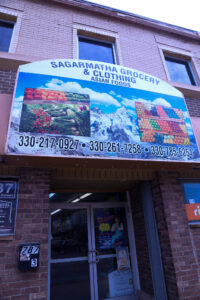 The prices vary from $650 for a Lehenga, $320-400 for a Sari and $110-135 for Kurta.
Tamang also said that there's a family and religious aspect involved, so each family has a different fabric for dresses.
Most of the customers are Nepalese or Indian, but when American customers come to the store, they look for dresses for high school cultural events, Tamang said. August and September are the busiest months of the year, selling more Lehenga dresses. During these months, Nepalis celebrate festivals such as Gai Jatra, Cow Festival; Teej, Nepal Women's Festival and Indra Jatra.
To please their customers, Tamang and Tula Tamang, his sister, give great deals and discounts to them.
"We want to make our customers happy," she said.
Devika Ramdm is a regular customer in the clothing store, she was born in Nepal and arrived in the U.S. in 2014. Ramdm is enchanted by the options the clothing store offers and the convenience of finding everything she wants in one place.
"I love this place, there is a good design quality," she said. "Very nice people and good deals, I can find the best prices in town at this shop."