By Jala Forest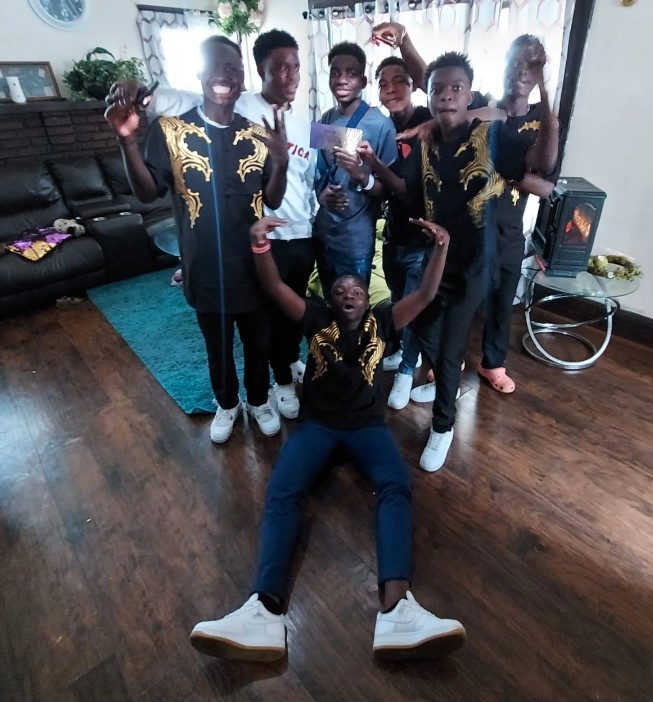 "My name is Yoshua," he said eagerly. He used his fingers to count as he proceeded to introduce me to his seven friends: "Chomba, Kamana, Martin, Samweli, Mmunga, Malanga, and Justly." He called the rest of the bunch from their hotel pool to the table to personally introduce themselves.
All of the friends surrounded the table: these were the members of the dance troupe The Black Beanz.
The Black Beanz is composed of eight talented and free-spirited teenaged boys from East Africa — six of them from Tanzania and two of them from Uganda — who bring a colorful streak to the Akron area through their love for dancing, music, and their East African culture. The troupe's dance moves are a reflection of African genres– such as Bongo Flava (derives from Tanzania), Ndombolo (music and a type of dance that derives from Congolese culture) and Ampiano (derives from South Africa) — fused with hip hop, reggae, R&B, and gospel. The team is self-taught and are in charge of their own choreography.
"They're all spiritually connected to each other when they perform," said Tom Crain, the co-manager of the dance troupe and the program director of Shanti Community Farms, an immigrant-focused nonprofit. "That's why the audience really [enjoys their performances]."
In 2021, Crain was sent on an assignment as a substitute English language teacher at North High School in Akron. While he was prepping the learning materials for the class, a colleague jokingly warned Crain about a group of energetic kids who weren't too shy to express themselves.
"[The teacher I was substituting for] was going on maternity leave and she told me 'You know, they're great kids but you have to watch them because they like to dance and play music even after the bell rings.'"
And unsurprisingly, Crain stumbled upon the group of upbeat students who had a unique rhythmic way of expressing themselves and their culture. Amazed by what he had witnessed, Crain saw potential in the joy, unity and freedom that dancing had brought to the teens and gave them the idea of starting the dance group, offering to help them establish themselves and make their name known to the public.
The teens decided to name themselves "Black Beanz" in honor of the agricultural heritage of their culture and their dance style. Before moving to the United States, most of them lived or worked on farms after their families fled the civil war of their home country of The Democratic Republic of The Congo. Most of them have been living in the Akron area for almost a decade.
"I mean, they were great," said Crain. "I told them 'Guys, you gotta really develop this, you can do this.'"
Two years later, a new generation of dance members emerged and the troupe has evolved. The Black Beanz have had more than 20 featured performances, including a performance at the Ohio Dance Festival in Columbus where just several hours prior to our meet, they took the stage by storm with their dance performance entitled "Beanz Umojah." Originally spelled Umoja, the term derives from the Swahili language and means to strive for unity in the family, community, nation and race. It is one of the seven principles of Kwanzaa.
Through friendship and dance, the talented teenagers have paved a way for themselves–and other refugee youth– through their love of dance and unapologetically being themselves regardless of what it would come with.
"We're confident because when you're with your friends," said Yoshua as he explained how being part of The Black Beanz had helped him, "You act the same. When you're lonely, you feel shy. You really know what to say when you're with your friends."